Casablanca & Morocco Trip
Vibrant Culture and Colorful Backdrops
11-Day International Trip
Casablanca & Morocco Trip
Dine at Rick's Café, the legendary saloon from the 1942 film Casablanca. Spend time in the capital city of Rabat. Explore Fes, one of the holiest cities in the world. Walk through Medina, where mules laden with goods still roam the ancient market. Tour the Sahara Desert by Jeep then ride to your nomad camp via camel. Travel the rugged "Road of a Thousand Kasbahs" to the UNESCO World Heritage site of Kasbah Ait Ben Haddou. Get a true taste of Moroccan hospitality in Marrakech, during lunch and tea with a local family. End with dinner in a palace. Enchanting Morocco will dazzle you with its deep history, unique atmosphere and welcoming people.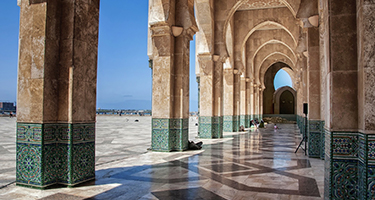 11-Day International Trip
Casablanca & Morocco Trip
Get to know the vibrant culture and colorful backdrops that are distinctively Morocco.
What Our Guests Are Saying
"I will not hesitate to tell friends and patients about the great time we had. The trip was both entertaining and informative."
Do you have questions or concerns regarding an upcoming trip or tour? Fill out the information below and we will get back to you shortly!
We'll respond to you within 24 hours to confirm your tour request.
Sign up for our monthly newsletter and birthday club