Cigar & Culinary Lover's Cuba 2021
Cigar & Culinary Lover's Cuba 2021
Cuba's rich history and culture makes it known as an artistic and welcoming destination. This trip will showcase all of what Cuba is known for, including a focus on one of its prized national products: tobacco. On this Cuban cigar and food lover's program, we will experience everything from rich tobacco fields, the factories where each cigar is made by hand and an in-depth look at traditional food and drink. You will go home with a better appreciation for this wonderful Caribbean destination. Join us when we Travel to Cuba 2021!
Check out some photos from our last trip to Cuba!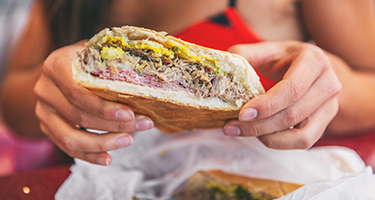 Cigar & Culinary Lover's Cuba 2021
Experience this welcoming and artistic destination complete with rich history and culture. On this cigar and culinary lover's program, we will experience everything from rich tobacco fields, the factories where each cigar is made by hand and an in-depth look at traditional food and drink.
Price
$2,850 double
$3,199 single
Trip Length
(1) pre-trip night in Fort Lauderdale, FL, (5) nights/ (6) days in Havana, Cuba
Dates
Arrive in Ft. Lauderdale on Wednesday, February 17, 2021, Fly to Cuba February 18, 2021,  Tour Tuesday, February 18 - 23, 2021. Trip concludes February 23, 2021.
Meeting Point
Please meet in Fort Lauderdale on Wednesday, February 17, 2021 by 6 pm for a pre-trip welcome reception. Flights to Havana should depart on Thursday, February 18, 2021 from Fort Lauderdale. Flight to Havana is not included in trip price, but we are available to assist with arrangements if desired.
Ending Point
The trip ends in Havana on Tuesday, February 23.  Transportation will be provide to the Havana International Airport for your flight home.
Group Size
Maximum group size is 24.
Included
One night stay in Fort Lauderdale, FL
Pre-trip welcome reception in Fort Lauderdale, FL
Five night stay in Havana, Cuba
Travel visa
Daily breakfast
Lunches and dinners as outlined on itinerary
Activities:
American Antique car ride
Bici-Taxi ride
Cigar bar visit OR Culinary walk
Nature excursion to Pinar del Rio Province
Tobacco farm visit
La Cueva del Indio visit
Classes:
Cuban mixology class
Cuban cooking class
Artisan pottery/ painting class
Cultural Sites:
Hemingway Museum
Revolutionary Museum
Artisan visits
Tours:
Panoramic tour of Havana
Old Havana City Tour
Cigar Factory Tour
Transfers between Ft. Lauderdale hotel and airport
Ground transportation in Cuba where specified
Travel Deliciously Escort
Local guide fluent in English
All luggage transfers
Taxes and service charges
All gratuites
Not Included
Airfare to/ from Ft. Lauderdale, Florida and Havana, Cuba is not included. We are available to assist with your airfare arrangements or you may make your own arrangements.
Parking at the airport / transfer to / from the airport from your home is not included.
Meals and alcoholic beverages, except those noted in the itinerary, are not included.
Personal expenses such as laundry or phone calls are not included.
Travel insurance is not included but recommended.
TRAVEL TO CUBA FOR US CITIZENS / RESIDENTS IS STILL POSSIBLE AND LEGAL! This trip is offered through the Support of the Cuban People license. According to The US Department of the Treasury's recent FAQ's page, this category for travel is still legal. The document states that you should "engage in activities that enhance contact with the Cuban people, support civil society in Cuba, or promote Cuban people's independence." It is really important to understand that although one license or purpose of travel to Cuba has gone away due to recent regulatory changes, there still are many licenses that people can qualify under. We are working with a company that understands what those licenses are and has helped us create an itinerary that really will capture the essence of Cuba, while abiding by all regulations so that the travel is still legal. If there is a regulation change after the time of booking, a full refund for the land portion will be made available to you. It is advised to purchase travel insurance to receive a refund on your airfare as well in the event of a regulation change.
What Our Guests Are Saying
"I will not hesitate to tell friends and patients about the great time we had. The trip was both entertaining and informative."
Do you have questions or concerns regarding an upcoming trip or tour? Fill out the information below and we will get back to you shortly!
We'll respond to you within 24 hours to confirm your tour request.
Sign up for our monthly newsletter and birthday club