Cooking Your Way Through Lesser Poland
Cooking Your Way Through Lesser Poland
Join us on a culinary adventure through Lesser Poland, one of Poland's most beautiful and delicious regions, home of the highlanders, or "gorale". While we're in the charming town of Zakopane and surrounding areas, we will spend lots of time immersed in highlander culture: cooking, singing and dancing in their homes and restaurants. The highlanders, rich culinary, and cultural traditions make this region one of the most exciting Polish destinations to explore in depth.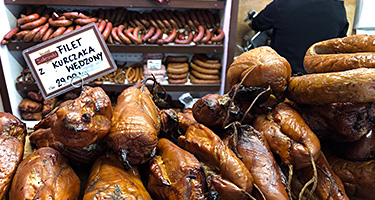 Cooking Your Way Through Lesser Poland
Immerse yourself in highlander culture, while eating our way through some of Poland's delicious, culinary traditions.
Depart US on Sept 17 (arrive Sept 18), Tour Sept 19 - 25, 2021, Fly home Sept 25, 2021.
What Our Guests Are Saying
Do you have questions or concerns regarding an upcoming trip or tour? Fill out the information below and we will get back to you shortly!
We'll respond to you within 24 hours to confirm your tour request.
Sign up for our monthly newsletter and birthday club