Raise your glass to a weekend in Louisville
Join us for a weekend getaway in Louisville, KY! During our time we will visit four distilleries both on and off the famous Kentucky Bourbon Trail and learn from area experts about the craft that started in the 1700's with the first settlers of Kentucky! During our weekend, we'll also experience a private happy hour cocktail demo and food pairing, explore the thriving downtown Louisville scene, and stop at some historic eateries along the way. And we can't go to Louisville without talking about horses too!  Our weekend is complete with a visit to the Kentucky Derby Museum to see the backside of Churchill Downs Racetrack with breakfast and a behind-the-scenes view of thoroughbred racing in the Horsemen's Track Kitchen.
We had a delicious time on a similar trip in 2018 and are thrilled to be heading back to the Kentucky Bourbon Trail again!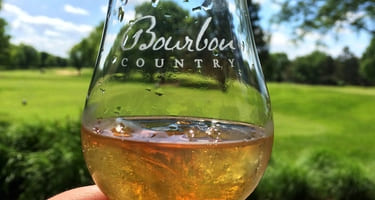 Explore the best places on the Kentucky Bourbon Trail as we delve into a weekend complete with distillery tastings, southern food and a visit to the Kentucky Derby Museum.
Friday October 14 - Sunday October 16, 2022
Price
$1,065 per person- single
$925 per person- double
Trip Length
3 day, 2 night weekend getaway
Dates
Friday October 14 - Sunday October 16, 2022
Meeting Point
You will be asked to select your pick up location during the ticket purchase process.
The bus will pick up at the following locations:
5:00 AM Sheboygan, WI Park & Ride
5:45 AM Brown Deer, WI Park & Ride
6:00 AM Downtown Milwaukee, WI Amtrak Station
6:15 AM College Ave Park & Ride in Oak Creek, WI
7:15 AM Rosemont Park & Ride / Metra Station, Rosemont, IL
If desired, you may arrange to meet us directly in Louisville, KY to begin this experience with us. Meet by Friday October 16 by 4 pm at Hilton Garden Inn, Downtown Louisville.
Ending Point
The motorcoach returns on Sunday, October 16th, 2022
The bus will return at the following locations:
5:15 PM Rosemont Park & Ride / Metra Station, Rosemont, IL
6:15 PM College Ave Park & Ride in Oak Creek, WI
6:30 PM Downtown Milwaukee, WI Amtrak Station
6:45 AM Brown Deer, WI Park & Ride
7:30 PM Sheboygan, WI Park & Ride
Group Size
Maximum Group Size: 30 guests
Included
Motorcoach transportation to/from Louisville and to group destinations during the weekend (provided by Discovery Coach)
Two nights of accommodations and baggage handling at the Hilton Garden Inn in Downtown Louisville.
Private local guide known for their bourbon expertise.
Admissions to Copper & Kings, Barton 1792, Heaven Hills, and Stizel Weller Distillery experiences.
Ticket for entry into the Kentucky Derby Museum and exclusive Churchill Down behind-the-scenes tour.
(1) continental breakfast, (1) sit-down breakfast, (2) lunches, (1) Happy Hour class with drinks and refreshments, and on-board bus snacks
Milwaukee Food & City Tours shopping tote for all of your Kentucky treasures.
Driver, guide, and escort gratuities.
Not Included
Friday's lunch is on your own at Gray Brothers Cafeteria in Mooresville, IN
Friday and Saturday dinners are on your own in downtown Louisville, KY
Additional Notes
We are able to accommodate for food allergies. Please call 888-426-1993 x 3 with your specific requests or make note of during the online reservation process.
See itinerary for more information
In route to Louisville, we will stop for lunch at the Gray Brothers Cafeteria which has been serving Indiana some of the best home cooked meals and desserts since 1944.

 We will start our weekend with a tour of Copper & Kings American Brandy where they sonically age their spirits. Our tour includes three tastings and a souvenir tasting glass. After all, as they say at Copper & Kings, "happy brandy makes happy drinkers!"

After we get checked into the Hilton Garden Inn Louisville Downtown you'll have the rest of the evening to explore the many establishments in the vibrant surrounding neighborhood.
We will start the day by welcoming our very own guide from Kentucky Bourbon Boys. They pride themselves on loving good times, good bourbon and our guide will tell us more about Kentucky and the history for bourbon.

We join the Kentucky Bourbon Trail at Barton 1792 Distillery named in honor of the year Kentucky joined the United States.

Next, we'll head to Heaven Hills Distillery and the Bourbon Heritage Center where we will learn about the aging process of Bourbon and the magic that takes place inside the barrel. In addition to our educational tasting we will discover why Heaven Hill Distillery is the only producer of all five styles of American Whiskey.

For lunch, we will eat like a local at Mike Linning's famous seafood restaurant. Open since 1925, Mike Linning's dishes up tasty fried fish and seafood nestled in a shady grove along the Ohio River. If you don't like seafood, don't worry, we will have other options on our menu.

Originally opening on Derby Day in 1935 and reopening to the public in 2014, the historic Stitzel-Weller Distillery is one of the true cathedrals of the American whiskey industry. We will visit this distillery drenched in the rich history of bourbon's past that's pushes the boundaries with innovations for the future.

We will break for Happy Hour at Bourbon Barrel Foods, known for being

U.S.'s only soy sauce microbrewery, Bourbon Barrel Foods has become a cornerstone in both the bourbon and gourmet foods industries.

  You'll see a demo of three different bourbon-themed cocktails paired with hors d'oeuvres  from their chef-in-residence. Feel free to mingle and shop their Eat Your Bourbon Marketplace with

countless varieties of handcrafted foods that embrace Kentucky's native spirit.

For dinner, return to the hotel for and head out on the town for dinner on your own. There is no shortage of delicious places to try! Or, choose to stay and explore the historic Crescent Hill neighborhood surrounding Bourbon Barrel Foods independently. Located just 5 miles from our hotel, it's just a short uber or taxi ride back to the hotel. 
To wrap up our visit, we will get the once-in-a-lifetime chance to spend a morning on the backside at Churchill Downs Racetrack where we will get a behind-the-scenes view of thoroughbred racing at the "World's Most Legendary Racetrack." Not open to the public, we will enjoy breakfast in the Horsemen's Track Kitchen and will get an up close and personal view of the horses, jockeys, trainers, and other connections who live the sport of horse racing! During our visit we will also have a historic walking tour and time to explore the Kentucky Derby Museum.

We'll depart for home and along the way, stop for a late lunch at Hollyhock Hill for an Indiana fried chicken dinner served family-style before our 5:15 PM Chicago Rosemont arrival; 6:15 PM College Avenue arrival; 6:30 PM Downtown Milwaukee arrival; 6:45 PM Brown Deer arrival; and 7:30 PM Sheboygan arrival.
What Our Guests Are Saying
Do you have questions or concerns regarding an upcoming trip or tour? Fill out the information below and we will get back to you shortly!
We'll respond to you within 24 hours to confirm your tour request.
Sign up for our monthly newsletter and birthday club