Enjoy a festive trip full of shopping and Christmas treats! We'll begin with stops at Confections by Joel and Widmer's Cheese in Theresa, WI where we will have ample time for samples and shopping.
Lunch will take place at Red Cabin at Green Acres, a family-owned and operated business that was featured recently on Wisconsin Foodie.
We'll have free time at two shops in Fond du Lac, which will be the perfect time to finish up your Christmas gift shopping.
The cornerstone of our day is stopping by the 13th annual season of Nutcracker in the Castle at the Paine Art Center in Oshkosh. In each of the mansion's rooms, scenes from Tchaikovsky's The Nutcracker are reinterpreted through elaborate decorations. Scenes include the Nutcracker's opening party scene, the Dance of the Sugar Plum Fairies and the Land of Sweets. Like the ballet, Nutcracker in the Castle presents a visual spectacle that fills spirits with joy every Christmas season. We'll have time on our own to walk through the mansion to view, plus our time includes a stop for a cupcake dessert straight from the Sugar Plum Fairy.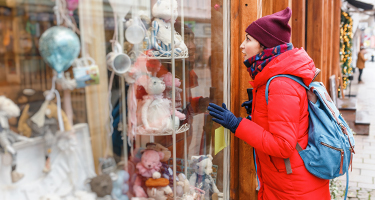 Enjoy a Christmas-filled daytrip in Wisconsin complete with lunch, shopping, treats and a visit to Nutcracker in the Castle at the Paine Art Center in Oshkosh where scenes from Tchaikovsky's famous story.
Price
The price is $110 per person.
Trip Length
8 am - 5:30 pm
Dates
Saturday, December 12, 2020
Ending Point
The bus will return at the following locations in Milwaukee:
Group Size
Maximum Group Size: 50 guests
Included
Round trip motorcoach transportation, gratuities for driver and trip escort, breakfast pastry, cheese and chocolate samples, shopping time, meal with drink choice, admission ticket to Paine Art Center & Gardens, cupcake dessert.
What Our Guests Are Saying
"I will not hesitate to tell friends and patients about the great time we had. The trip was both entertaining and informative."
Do you have questions or concerns regarding an upcoming trip or tour? Fill out the information below and we will get back to you shortly!
We'll respond to you within 24 hours to confirm your tour request.
Sign up for our monthly newsletter and birthday club