Castles, Culture, and Picturesque Greenery
This is Ireland. On this adventure you'll spend the night at luxury properties and partake in standout experiences to ensure every day is special. Spend two nights at Dromoland Castle that includes a dinner sure to make you feel like a royal! Explore the 220 stunning acres of Castlemartyr Resort on an overnight in the country. Step inside a working farmhouse and visit an Irish family. Gaze down upon the mighty Atlantic from the 700-foot Cliffs of Moher. Come to know Dublin and experience the world-famous beauty of the Ring of Kerry. Savor an Irish coffee at its birthplace in the Foynes Flying Boat Museum. Journey to Blarney Castle, lean back and kiss its famous stone!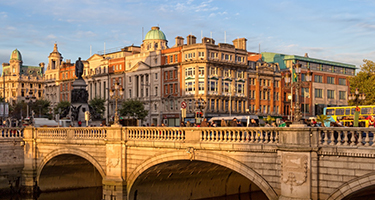 Explore Ireland's historic castles and culture that date back for centuries. Visit the famous Jameson Irish Whiskey distillery, and relish in picturesque greenery as far as the eye can see.
Depart US May 2021. Trip XXX, 2021. Depart XXX, 2021
What Our Guests Are Saying
"I will not hesitate to tell friends and patients about the great time we had. The trip was both entertaining and informative."
Do you have questions or concerns regarding an upcoming trip or tour? Fill out the information below and we will get back to you shortly!
We'll respond to you within 24 hours to confirm your tour request.
Sign up for our monthly newsletter and birthday club